Interested in having your product appear on The Fabrication Series YouTube Channel?
"TFS" on YouTube is a powerful platform which can be used to deliver your company or product message to interested viewers. TFS's audience is growing rapidly by the day and we are able to reach many potential buyers of your quality product with one of our clear and precise product presentation videos.
What Does TFS Have to Offer?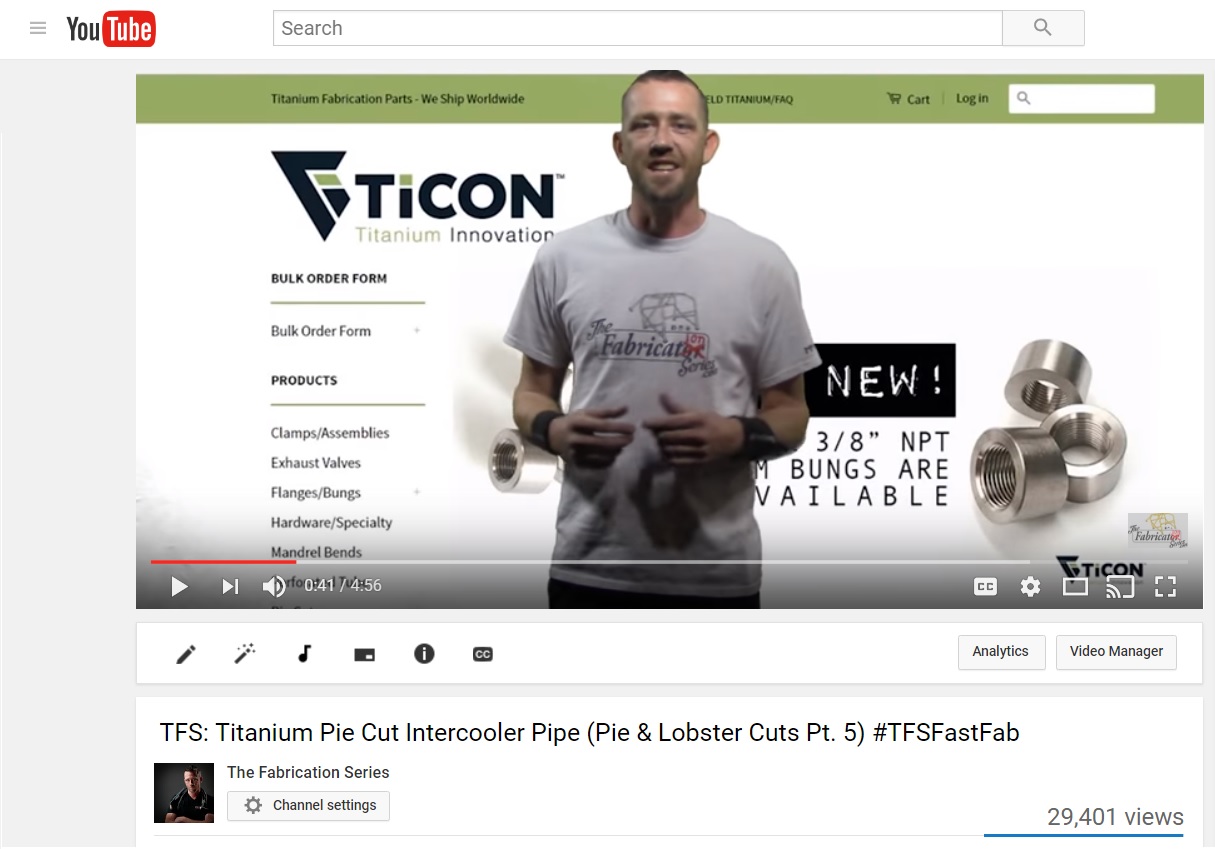 What Does TFS Have to Offer?
★ Product Reviews
★ Assembly Videos
★ Product Use Videos (aka "How-To's")
★ Event & Convention Promotion
★ Product Placement
★ Increase Brand Awareness
What does The Fabrication Series offer that other channels don't?
If you take a look at any of our videos, you will find that we reply to almost every single comment posted. This creates a very engaged crowd and a trust in the content being shown on the video. We do not allow "anything" on our channel because it was "free if we put it in a video." This helps develop a trust in a featured brand or product that is otherwise unknown for the viewer since they know that we do not push anything.
Want us to shout your company out as a sponsorship in the first 30 seconds? Maybe you would rather the video have a more organic flow? We can deliver either style.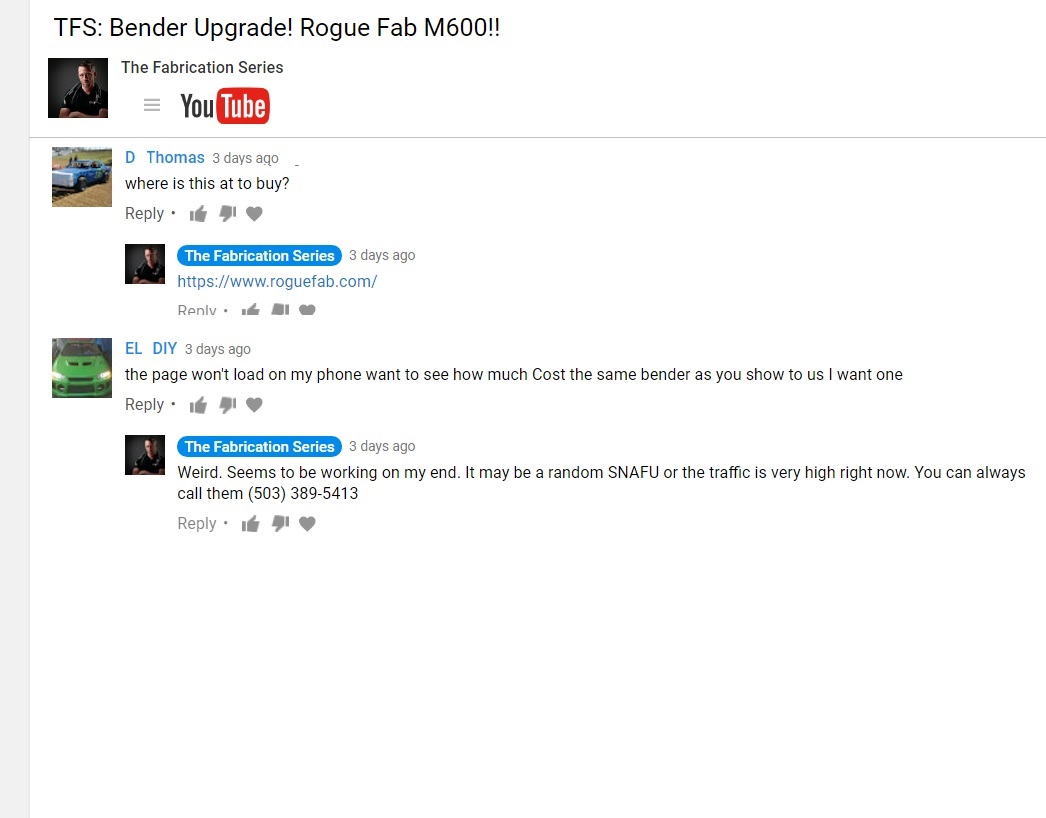 Many of our viewers ask us directly about any issues or errors encountered with a particular product. Since we have hands on "real use" with your product, we can typically answer their questions. This leaves you and your staff free to run your daily operations without the continuous tech calls. However, we do always refer the viewer to you even if we can answer the questions.
Promotion never ends after a video. Since we use trusted and approved products regularly, they will be constantly seen on our social media pages such as Instagram and Facebook.
Anyone can make a "box opening" video and a initial use but the real world knows that creating a brand following goes above and beyond how well the product is packaged. Our audience wants to know about the performance of your product and we want to deliver. Since we are professional Fabricators, we know exactly what to put your product through and exactly what needs to be demonstrated.
There is no standard for pushing content. We believe each product has a story and a unique view that needs to be delivered. We go above and beyond the basic "what do you want" video pitch to create a professional experience as we work with you and your sales & marketing team to ensure the best views and points about your product are conveyed correctly with our audience.
In addition to your product appearing to our global audience, you will receive a service that can extend your customer service department. We proudly respond to 99.2% of all comments posted on our YouTube Channel videos, Facebook Private Messages, and Instagram Direct Messages. With this type of dedication you can be assured that the interested parties will be directed to your product.
We also offer advertising with clickable links on video cards, end screen annotations, and links in descriptions.
So what's included in a standard promotional video from TFS?
An honest, clear, and extremely detailed presentation of your product features or your product in action, social media promotion (pre-video launch on Instagram and Facebook), follow up support (answering comments and questions as well as directing viewers to product sales and info pages), Tech Support based on our first hand experience with your product, continuous communication with our audience.
Standard Promotional Video Features
★ HD 1080p video format
★ Organic presentation or sponsor announced
★ Clear shots of brand logo or product
★ Clean and clear language
★ Pre-video launch buildup on Social Media
★ Professional onscreen Image
What is required to submit for a video to be made?
Since we are well known for only publishing verified and trusted products, you must first become an approved product or brand. We simply will not allow the average "free stuff" to appear on our channel. We are a trusted source with an impeccable reputation for delivering quality content to our very engaged audience. We only promote meaningful high quality products to our audience which are related to our industry. Each product is required to undergo testing by us for consideration.
★ You must first contact us to discuss your product features ★
★ Upon approval, you must ship your product to us for testing ★
★ Once approved, we can discuss pricing and placement ★
Additional Promotions
Available with or without a video by The Fabrication Series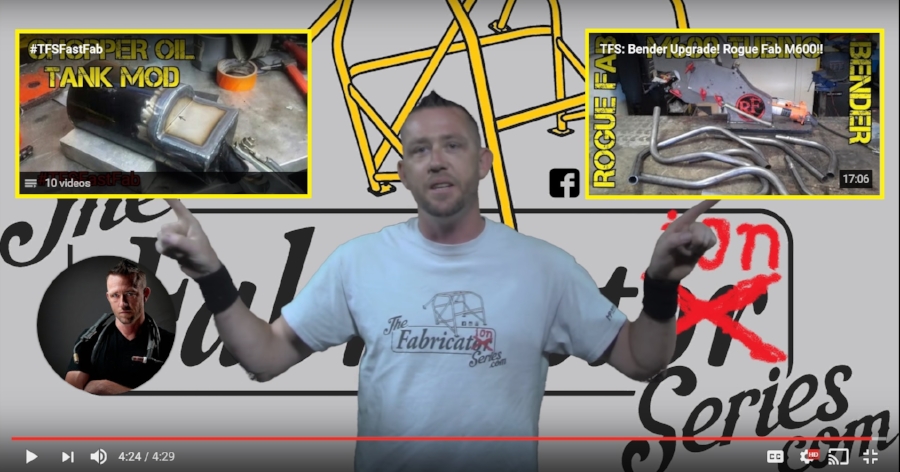 We can link to your video with us or to our website containing your product info in the last 20 seconds of the video.
We can link to your YouTube Channel, your product video with us on another video, or to our dedicated Build Blog page containing your product links.
We can create a small info page on our website which will include our review of your approved product along with direct clickable links to your product.
We can add a banner to our shop wall, place a product in a background shot, or even replace the 4 inch by 4 inch "YOUR AD HERE" decal seen on the right side of Justin's welding helmet with your ad or logo.
Businesses we have worked with
★ Metal Supermakets (Corporate) ★
★ Everlast Welders ★
★ TiCon Industries ★
★ Rogue Fabrication ★
★ JORD - Hand-crafted wood timepieces ★
★ O School Choppers (Las Vegas) ★
★ Metal Supermakrets (Las Vegas) ★
★ Anderson Motorsports (Las Vegas) ★
★ Merrill Performance (Las Vegas) ★
Is your business next? Contact us today to discuss your product!